Water Canaries
September 2012 Journal
Lesley Carter and Kelly Cowper, Environment Canada
Do you remember how coal miners used canaries to alert themselves of changes in the air quality when they were deep within the mines? How about using water canaries to do the same thing for our rivers?
We all know that there are no such things as water canaries, but there are organisms that live in the water that can give us important information about the quality of water flowing in our rivers. These creatures are called benthic macroinvertebrates (bugs that live on the bottom of rivers and lakes that are big enough to see with the naked eye). They live in all freshwater ecosystems and include the larval stages of many insects (ex. mayflies, dragonflies, mosquitoes) as well as other animals such as worms and mites.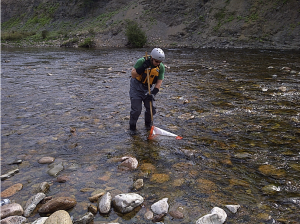 Todd Smith from Environment Canada kick net sampling for benthic macroinvertebrates in Nova Scotia. (August 2012)
In 2006, Environment Canada launched the Canadian Aquatic Biomonitoring Network (CABIN). This national aquatic biomonitoring program uses these underwater bugs to assess the health of freshwater ecosystems in Canada.
Benthic macroinvertebrates provide a great deal of information about the water they are living in. They each have specific environmental conditions that they like to inhabit. By studying them, we can measure the effect, impact, and damage to the water quality.
CABIN was designed for professionals in water quality monitoring and has been successfully applied by community watershed groups who want to expand their stream monitoring activities. The data within the CABIN database is gathered by all CABIN users including federal, provincial, territorial and municipal governments, environmental consultants, academia, First Nations, community watershed groups and industry. CABIN partners have collected 220 samples within the Gulf of Maine watershed and are adding to this number every year.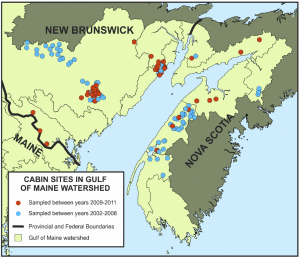 CABIN promotes inter-agency collaboration and data-sharing to achieve consistent and comparable reporting on freshwater quality across Canada. Standard methods are taught through the CABIN training certification program.
By using a standard method to collect field data, Environment Canada and its network of partners can share the resulting data to get a better understanding of aquatic ecosystem health in Canada.
To enhance collaboration, knowledge sharing and program development, Environment Canada and the Canadian Rivers Institute are coordinating the CABIN Science Forum 2012 in Fredericton, New Brunswick.
Register online to participate in the Forum in person or by webinar. Registration is free and early registration will assist us in planning for the event.
For more information email: cabinworkshop@ec.gc.ca.