The Nova Scotia Watershed Assessment Program (NSWAP)
April 2013 Journal
The Nova Scotia Watershed Assessment Program (NSWAP) was initiated to increase our knowledge on the current state of watersheds in Nova Scotia. In the NS Water Resource Management Strategy (2010), a knowledge gap on the pattern of watershed issues faced in the Province was formally recognized. To fill in the knowledge gap of the impacts of human activity on our watersheds, the NSWAP was launched in 2011 by the Hydrologic Systems Research Group at Dalhousie University, in collaboration with Nova Scotia Environment (NSE).
The key research questions studied are which of our province's watersheds are most at risk; and what are the drivers of the impacts to our watersheds? The NSWAP project identifies the priority watersheds that are at the highest potential risk from activities such as land use, roads and water usage. NSWAP is a two stage study of watersheds in Nova Scotia. Part A (2011 – 2013) was developed as a rapid, desktop, GIS assessment of Nova Scotia's watersheds with the goal of assessing potential threats to water quality and quantity to identify priority watersheds that require more resources for management. Whereas Part B (beginning in 2014) will leverage the results of Part A to study localized issues identified in priority watersheds.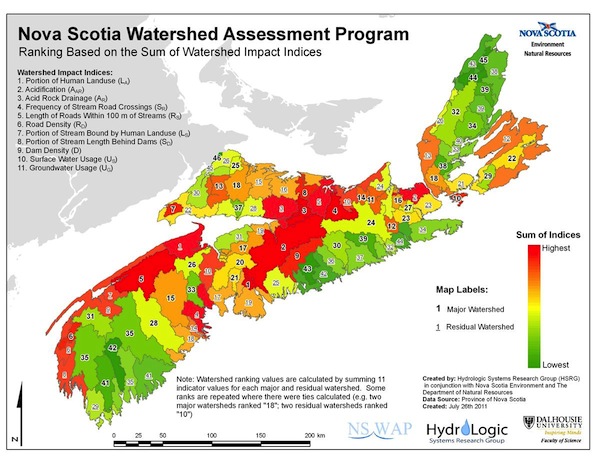 Nova Scotia's watersheds have been sub-divided into 4 geographical regions based on the jurisdictional resource distribution at NSE. Within the 4 regions a total of 341 watersheds were studied. NSWAP Part A studied the impacts of 13 indicators (e.g,. road/stream crossing density, human land use, dam density) in the 341 watersheds. These indicators represent potential impacts to watersheds and were selected based on importance to watershed health and available data. The 13 indicators will be modeled into four categories of Watershed Values –
Hydrologic Change, Instream Habitat, Water Quality, and Surface Erosion
– to better understand the impacts to the values of watersheds and to efficiently communicate the results to a broader audience.
In addition to the indicator impact analysis resource management activities that are carried out by the government and various stakeholders were also included in this study. The comparison of the Watershed Values and the ongoing resource management practices identifies the priority watersheds in our regions and identifies where to focus resource management efforts in the future.
For more information please contact:
Dr. Shannon Sterling, Dalhousie University
Earth Science and
Environmental Science
Dalhousie University
1355 Oxford Street, Rm 827
8th Floor Life Sciences Centre (Biology)
PO BOX 15000, Halifax, NS, B3H 4R2
CANADA
Phone: 902.494.7741
http://myweb.dal.ca/sh732360/Sterling_Lab_Site/Welcome.html