US Wind Power Blows to the Top

Figures released by the Global Wind Energy Council (GWEC) in early February showed the United States passed Germany to become Number 1 in the world in wind power installations for 2008.
GWEC's global market figures also showed China's total wind power capacity doubled for the fourth year in a row.
Total worldwide installations in 2008 reached more than 27,000 megawatts (MW), dominated by the three main markets in Europe, North America and Asia. Global wind energy capacity grew by 28.8 percent, higher than the average over the past decade, to reach total global installations of more than 120,800 MW (120.8 GW) at the end of 2008.
More than 27,000 MW (27 GW) of new wind power generation capacity came online in 2008, 36 percent more than in 2007, said Steve Sawyer, Secretary General of GWEC.

[ back to top ]
---
Noel Paul Stookey Performs Benefit Concert for MERI
Blue Hill, Maine -- Noel Paul Stookey, one-third of the famous singing trio Peter, Paul and Mary, will perform a solo concert to benefit the Marine Environmental Research Institute, February 14.
"MERI Valentine to the Oceans" is the kickoff event in MERI's 2009 campaign to raise public awareness about the crisis facing the world's oceans. For more information e-mail Veronica Young or contact her at (207) 374-2135.

[ back to top ]
---

Spaulding Chosen First Head of NERACOOS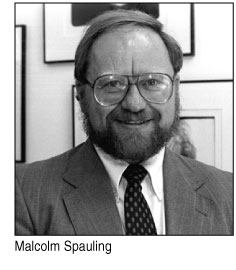 Narragansett, RI -- Malcolm Spaulding, chairman and founder of Applied Science Association (ASA), professor of ocean engineering and director of the Center of Excellence in Undersea Technology at the University of Rhode Island, was elected first president o fthe Northeast Regional Association for Coastal Ocean Observing Systems (NERACOOS).
NERACOOS was established to network and expand the existing observation and prediction capacities of multiple institutions and agencies throughout New England and Maritime Canada. NERACOOS is one of eleven U.S. regional associations developed to support NOAA's comprehensive IOOS program (U.S. Integrated Ocean Observing System) to ensure the sustained observation of the nation's coastal oceans. The region includes the coastal waters of Maine, New Hampshire, Massachusetts, Rhode Island, and Connecticut.
The role of NERACOOS is to track, predict, manage and adapt to changes in the coastal and ocean environment. A primary responsibility is to prioritize and appropriately allocate federal funding from NOAA to entities in the region for ocean observing and development.
[ back to top ]