Climate Initiatives: New Hampshire
Resilient New Hampshire Coasts Project
The New Hampshire Coastal Program (at the NH Department of Environmental Services) is working with a coordinated team to help municipal leaders, business owners and community members identify and understand coastal resources and hazards as well as ways to reduce vulnerability to these hazards. The team will offer communities tools and information to help plan for coastal hazards, including creation of a "one-stop shop" for all hazards-related data in the 42 communities of New Hampshire's coastal watershed.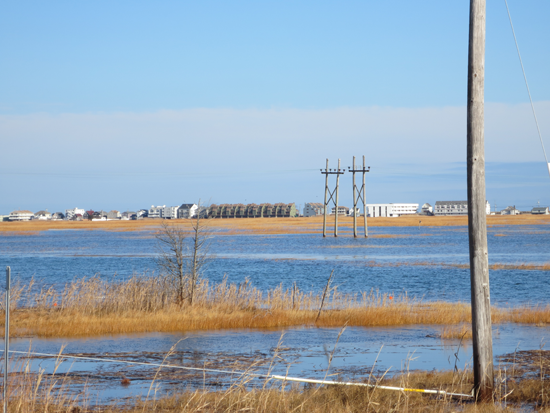 Photo: Catherine Coletti
Dubbed the Coastal Hazards Viewer, this web-based product is slated to launch in June 2015. It will incorporate into an interactive map a wealth of information including river erosion hazards data; culvert hazards data; sea-level rise and flood risk projections; and new and field-tested salt marsh vulnerability data.
During its development, two municipalities will test the Viewer while working on a community Adaptation Action Plan, using it to visualize and identify what in town is at risk. The project team also will reach out to the business community, introducing the Coastal Viewer tool and providing information on planning for coastal hazards.
The project is funded by NOAA (as a Project of Special Merit). For further information, visit http://www.granit.unh.edu/nhcoastalviewer/
Precipitation from extreme events in the GOM region has increased 74 percent since 1958 (NOAA).
Extreme weather already poses economic and ecological challenges, and these events are expected to grow more frequent in coming decades, with precipitation increasing 5-9 percent (IPCC 2013).
By 2050, climate scientists project a more rapid increase of 2.5 to 3.5°C (4.5 to 6.3° F) in regional air temperature (IPCC 2013).
Temperatures in the Gulf of Maine have risen much more in recent decades than many other coastal waters around the world, and a 2012 "heat wave" in sea surface temperatures had damaging economic impacts.
What's Climate Change and What's Just the Weather?
This one-minute animation by Ole Christoffer Haga, produced by Teddy TV for the Norwegian Broadcasting Corporation, clearly and humorously illustrates the difference between long-term climate trends and variable weather patterns.