Climate Initiatives: New Brunswick
Identifying Flooding Vulnerabilities in Charlotte County
Five New Brunswick communities—St. Stephen, St. Andrews, St. George, Blacks Harbour and Grand Manan—are actively preparing for sea-level rise and storm surge. With facilitation help from the St Croix Estuary Project and Eastern Charlotte Waterways, working groups of community members have identified which regions and members of their community are most vulnerable to flooding.
Over several months, each community held five facilitated sessions focused on infrastructure, socio-economics, environment, governance and options. "Our climate change meetings were a combination of excellent, science-based presentations on the town's sea level rise and storm water issues, coupled with citizen engagement, discussion and recommendations," observes  Stan Choptiany, Mayor of Saint Andrews.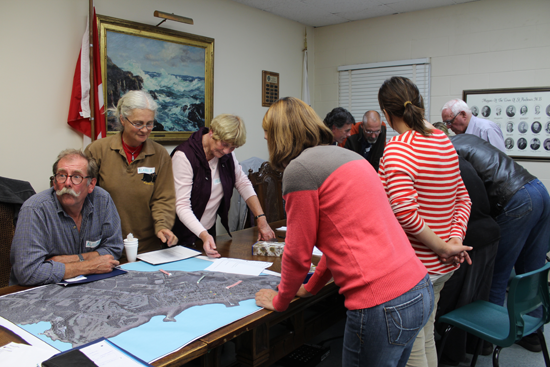 Photo: St. Croix Estuary Project
The communities employed LIDAR-based digital-elevation mapping, and planning tools such as the Community Vulnerability Assessment Tool (CVAT, first developed by NOAA and used in both the US and Canada) and the Vulnerability-to-Resilience (V2R) tool (adapted for use in the Atlantic region). "Seeing the dramatic ramifications on our historic district is helping our Town Council shape mitigation strategies, identify priorities for action, and more fully engage citizens," Choptiany adds. "The Charlotte County community vulnerability assessment project was an exceptional and effective process."
Support for the project came from Environment Canada (through its Atlantic Ecosystem and Science Horizons Initiatives); the Province of New Brunswick's Environmental Trust Fund; and the Intact Foundation.
Precipitation from extreme events in the GOM region has increased 74 percent since 1958 (NOAA).
Extreme weather already poses economic and ecological challenges, and these events are expected to grow more frequent in coming decades, with precipitation increasing 5-9 percent (IPCC 2013).
By 2050, climate scientists project a more rapid increase of 2.5 to 3.5°C (4.5 to 6.3° F) in regional air temperature (IPCC 2013).
Temperatures in the Gulf of Maine have risen much more in recent decades than many other coastal waters around the world, and a 2012 "heat wave" in sea surface temperatures had damaging economic impacts.
What's Climate Change and What's Just the Weather?
This one-minute animation by Ole Christoffer Haga, produced by Teddy TV for the Norwegian Broadcasting Corporation, clearly and humorously illustrates the difference between long-term climate trends and variable weather patterns.