Climate Initiatives: Massachusetts
Grounding Climate Resiliency in Ecological Restoration
The effects of climate change can stress biota and natural systems, particularly if their habitats are degraded. The State of Massachusetts is working to restore degraded rivers, wetlands, and riparian areas to healthy, intact natural habitats so they can support viable populations of native plants and wildlife and better adapt to a warming climate, changing precipitation patterns, and rising sea levels.
"Our ecological restoration projects—from dam removals and culvert replacements to wetland fill removal and streamflow enhancement—support climate change resiliency," observes Hunt Durey, Acting Director of the Division of Ecological Restoration (DER) at the Massachusetts Department of Fish and Game. "They enhance critical ecological processes like biological dispersal and nutrient transport that help wildlife and plants better adapt to a changing climate, and they can also benefit human communities by improving ecosystem services, such as flood protection and water filtration."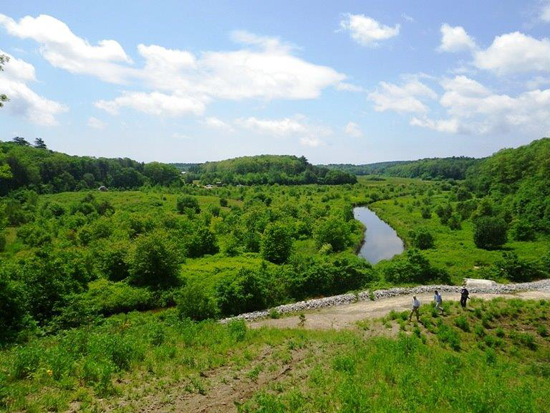 Photo: Massachusetts DER
Many of DER's past and current projects lie in coastal communities, with more than two dozen active restoration efforts underway in the Gulf of Maine watershed. At Tidmarsh Farms in Plymouth, for example, DER is working with local, state, federal, and NGO partners to remove two dams and 6 other water control structures, eliminate agricultural ditches, reconstruct 3.5 miles of main channel and tributaries, re-connect the floodplain, install over 3,000 pieces of large wood, and promote native wetland vegetation across the 250-acre site by activating the native seed bank and planting rare species. "Restoring more natural ecological conditions at this large site," notes Durey, "will help strengthen the capacity of the whole watershed to adapt as climate conditions change."  For more on the DER's work and a map of priority projects, visit http://www.mass.gov/eea/agencies/dfg/der/.
Support from organizations like DER has been critical to the success of the Gulf of Maine Council's Habitat Restoration Program, providing funding and technical assistance to 120 projects around the Gulf since 2002. That support has allowed the Habitat Restoration Program to re-establish 682 acres of coastal marsh, 141 miles of historical fish habitat access and 98 miles of free-flowing streams, as well as shellfish and eelgrass beds. For more information on the Council's restoration work, including a map of past projects, visit http://restoration.gulfofmaine.org/.
Precipitation from extreme events in the GOM region has increased 74 percent since 1958 (NOAA).
Extreme weather already poses economic and ecological challenges, and these events are expected to grow more frequent in coming decades, with precipitation increasing 5-9 percent (IPCC 2013).
By 2050, climate scientists project a more rapid increase of 2.5 to 3.5°C (4.5 to 6.3° F) in regional air temperature (IPCC 2013).
Temperatures in the Gulf of Maine have risen much more in recent decades than many other coastal waters around the world, and a 2012 "heat wave" in sea surface temperatures had damaging economic impacts.
What's Climate Change and What's Just the Weather?
This one-minute animation by Ole Christoffer Haga, produced by Teddy TV for the Norwegian Broadcasting Corporation, clearly and humorously illustrates the difference between long-term climate trends and variable weather patterns.