Climate Initiatives: Maine
Integrating Science into Policy: Adaptation Strategies for Marsh Migration
A Marsh Migration Team is helping coastal communities in Maine explore how local policies or plans might address the expected inland movement of coastal marshes as sea levels rise. This collaborative effort involves staff of the Maine Coastal Program, Maine Department of Inland Fisheries and Wildlife, Maine Geological Survey, Wells National Estuarine Research Reserve, and Maine Coast Heritage Trust (a statewide land conservation organization). With support from a NOAA Project of Special Merit grant, the Marsh Migration Team is working with six Maine communities—Scarborough, Bath, Topsham, Phippsburg, Georgetown, and Bowdoinham—to understand the economic and resource values of coastal marshes; assess likely marsh migration; and develop adaptation strategies (recognizing the potential costs of not planning for predicted sea-level rise).
The impacts of global sea-level rise will affect every coastal marsh differently—depending on its shape and setting, as well as the slope of upland areas and proximity of development. Each participating community is getting help determining likely effects in four projected scenarios involving both sea-level rise and storm surge. The towns are also assessing their current land uses and infrastructure to see if those could allow marshes to move.
"Because each participating community drives the process," says Marsh Migration Team member Elizabeth Hertz, "the approach to decision-making is markedly different even in communities that are close geographically. This process works to engage residents in conversation, and visualize climate impacts so they can determine how best to use the scientific data in planning for the future." For Georgetown, the Marsh Migration Project "provided the perfect opportunity at the perfect time," observes resident and conservation commission member Kate MacKay. "It became the nucleus for us to launch a much larger conversation about how climate change and sea-level rise could affect a range of values–from our local fishing economy and emergency preparedness to deer populations and the resilience provided by natural wetlands."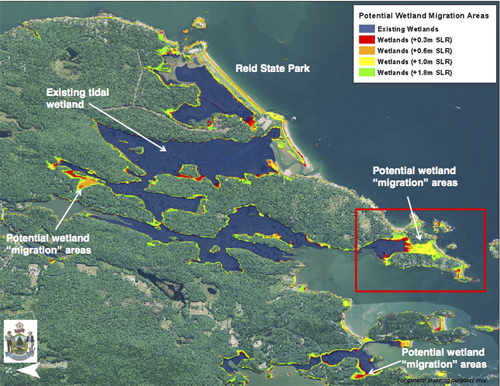 Precipitation from extreme events in the GOM region has increased 74 percent since 1958 (NOAA).
Extreme weather already poses economic and ecological challenges, and these events are expected to grow more frequent in coming decades, with precipitation increasing 5-9 percent (IPCC 2013).
By 2050, climate scientists project a more rapid increase of 2.5 to 3.5°C (4.5 to 6.3° F) in regional air temperature (IPCC 2013).
Temperatures in the Gulf of Maine have risen much more in recent decades than many other coastal waters around the world, and a 2012 "heat wave" in sea surface temperatures had damaging economic impacts.
What's Climate Change and What's Just the Weather?
This one-minute animation by Ole Christoffer Haga, produced by Teddy TV for the Norwegian Broadcasting Corporation, clearly and humorously illustrates the difference between long-term climate trends and variable weather patterns.