A tribute to Susan Snow-Cotter
Printer Friendly Page
The Boston Globe
By Bryan Marquard, Globe Staff
Dec. 17, 2006
Excerpted with permission
COURTESY: JOHN COTTER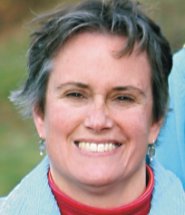 Susan Snow-Cotter
(1961-2006)
"Susan's impact on our environment will be felt for many years to come."
Three weeks after giving birth to her second child in 1994, Susan Snow-Cotter packed up her family and moved from Saipan in the western Pacific to take a job with the Massachusetts Office for Coastal Zone Management.
"We moved 10,000 miles. We had a son who was 21 days old," said her husband, John Cotter.
At the state office, colleagues awaited her arrival, wondering what kind of person would willingly submit to so much stress at once.
"This woman sounded absolutely larger than life," said Anne Donovan, a longtime friend and communications director for the office.
For the next dozen years Snow-Cotter cut a path both real and legendary down an avenue of state government where the challenges grew increasingly more complex. She rose to direct the office that creates policy to balance environmental protection with the human use of the ocean along the Massachusetts coast.
Growing up in Medfield the second of four children, Susan Snow demonstrated a talent for taking charge early on.
"Susan has been the leader from day one," said her younger sister, Pamela Snow of Colrain. "She really stood out that way - always organizing and planning something."
A traveler since her early teens, when she visited Paris and London with her parents, she spent one summer during college in Salamanca, Spain, and two semesters away - in Oregon and Washington, D.C.
She graduated from the University of Massachusetts at Amherst and was in Seattle studying for a master's in marine affairs at the University of Washington when she met John Cotter, who had just ridden his motorcycle across the country.
When she finished her master's, they moved to Saipan and she began to work in her field, all the while fitting in trips to places such as Australia and Indonesia. Their first child was born in Saipan and their second was due when her mother sent her a newspaper help wanted ad for the state job in Massachusetts.
"She started in the rank-and-file ascended the ranks without leaving boot marks on people's backs," her husband said.
"She was our boss, but she was the kind of boss that when you went into her office you felt welcomed. And you knew whether you agreed with her or not, she would always support you," Donovan said.
At the Office for Coastal Zone Management, she developed the state's first plan for aquaculture. The expertise in coastal management turned Snow-Cotter into a sought-after speaker nationally and internationally.
Robert W. Golledge, Jr., the state secretary of environmental affairs, issued a statement praising her work for the agency. "Susan's dedication and enthusiasm for the environment, as well as her positive outlook and leadership, inspired many of her friends and colleagues, both within the Executive Office of Environmental Affairs and all those she touched through her work at Coastal Zone Management," he wrote. "Susan's impact on our environment will be felt for many years to come."


The Hingham Journal
Dec. 21, 2006
Excerpted with permission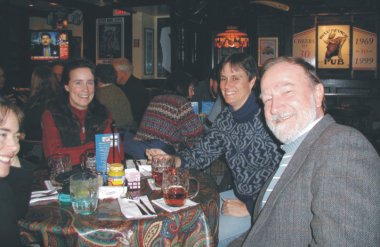 PHOTO: PETER WELLS
Michele Tremblay, Andi Rierden, Susan Snow-Cotter and David Hartman (left to right) relax in a Boston pub after a busy Gulf of Maine Council Working Group meeting in December 2001.
Susan A. Snow-Cotter's siblings describe her as a leader and an avid traveler. Her sister, Pamela, said "Susan played as hard as she worked." She was an integral part of the Massachusetts Office of Coastal Zone Management for more than 12 years. She began at CZM in 1994 as their first Ocean Policy Coordinator, where she successfully developed the state's first strategic plan for aquaculture. In 1998 Susan stepped in as Assistant Director of CZM and was later appointed CZM Director and effectively headed up the Environmental Affairs Ocean Management Initiative, which was the first in the nation.
Balancing human use with environmental protection in the ocean was a true passion for her. She was a true ocean expert and a member and Council Chair of the Gulf of Maine Council on the Marine Environment. She served on the Northeast Regional Ocean Council, the U.S. Committee on Ocean Policy's Federal/State Task Team on Research Priorities and she was the Chair of the state's Coastal Hazard's Commission. Susan was also active in Hingham town government and prior to working at CZM, served on the Hingham Harbor Development Committee.
Snow-Cotter's colleagues said she was a major champion for ocean management. She led many efforts to bring innovative management approaches to the entire Gulf of Maine region. In particular, she spearheaded a region wide effort to map the seafloor off the New England Coast. The entire field of ocean management will miss her quiet leadership and forceful vision.
Maggie Merrill, a resident of Hingham, said, "Susan was one person in this town with whom I could connect on issues related to the ocean and its protection. She worked on a very high level in the state, but never was condescending. She was always very helpful and generous with her time, talent and knowledge of state politics and ocean resources."
© 2007 The Gulf of Maine Times